uPVC Bi-Fold Doors Milton Keynes
uPVC Bi-Fold Doors from Aspire Windows
uPVC Bi-Fold Doors Milton Keynes
Bespoke uPVC Bi-Fold doors are available for supply and fit at the most competitive prices from Aspire Windows. uPVC Bi-Folding doors boast accessibility, style and space. These magnificent doors can open up an entire side of your home creating an expansive space for entertaining, airing your property or simply enjoying your garden.
Bi-folding doors will truly be a beautiful addition to your home and are also a popular addition to commercial properties looking to add that extra bit of pizazz. A stunning addition that can unlock the potential of any property, connect the interior with the exterior and transform the way that you use your home.
Our bi-folding doors come with slimmer sightlines so that they intrude less on your view and enhance the overall look of the door. The result of this is you get a better view of your garden without unwanted obstructions getting in the way. It also makes for a more stylish finish when looking at your property from the outside.
Aspire Windows offer our supply and fit service for uPVC bifold doors in Milton Keynes, Leighton Buzzard, Buckingham, Dunstable, Bedford, Northampton and Buckinghamshire. We are happy to offer our supply and fit service for uPVC bifold doors further afield, depending on the project. Get in touch to find out if we work in your area.
uPVC Bi-Folding Doors Quote
uPVC Bi-Fold doors available for supply and fit, get a free online quote.
uPVC Bi-Fold Doors Energy Efficiency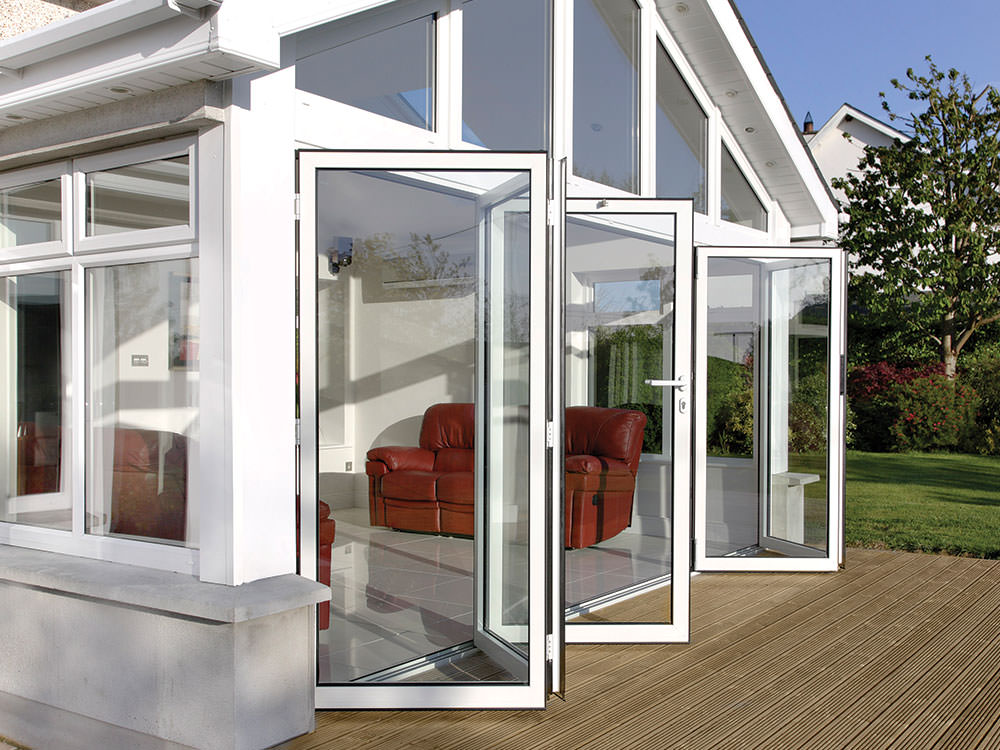 Reduce Energy Bills
As uPVC Bi-Fold doors are essentially a wall of glass, they bring tremendous levels of energy efficiency. Our range of uPVC Bi-Fold doors can achieve a U-value as low as 1.3 W/m2K, creating a warmer home for less expenditure of energy and money.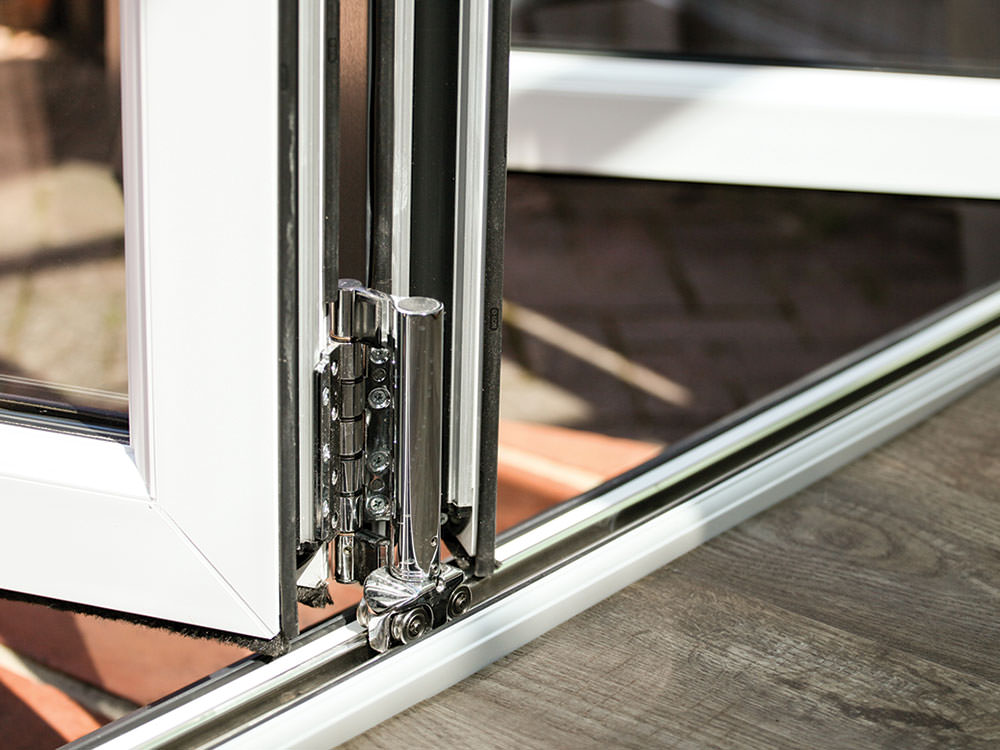 Quality Sealant
Here at Aspire Windows, we fit all of our Bi-Fold doors with modern thermally focused glass. Our glass is internally beaded and equipped with a sealant around the perimeter to provide excellent weatherproofing and thermal insulation.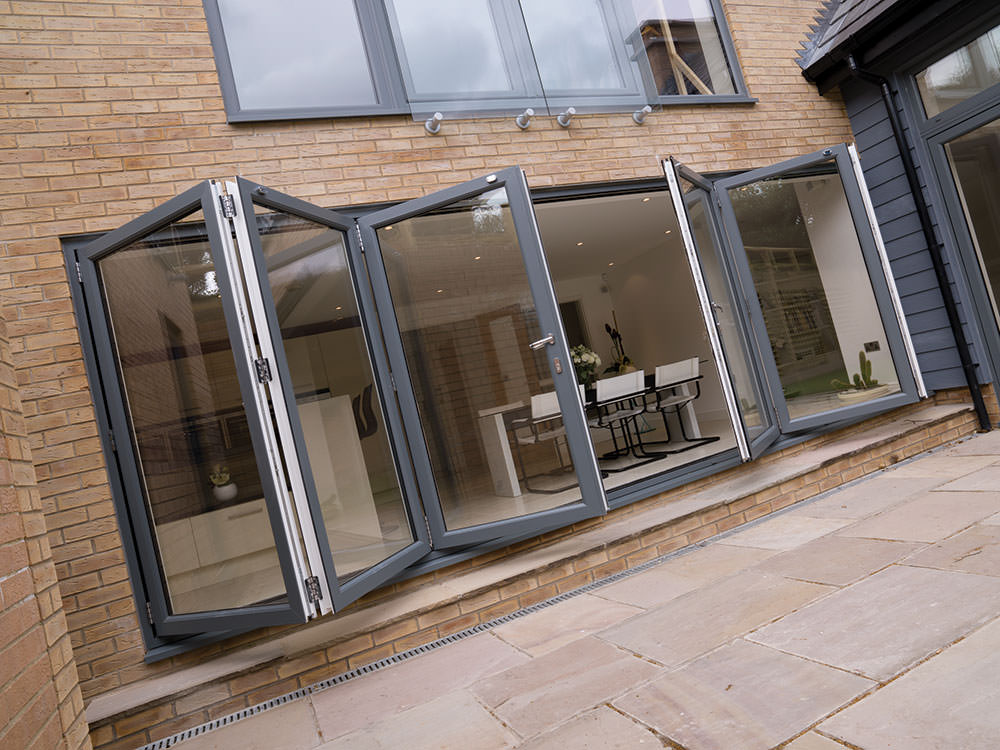 Multiple Leaf Options
Our uPVC bi-fold doors come in a range of designs to be configured perfectly to the specification of your home. To optimise the space available in your property, they can open in or out, with the primary leaf to the left, right or centre.
uPVC Bifold Doors Security
As Milton Keynes leading home improvement company, security is paramount throughout the designs of all our products. Commonly installed at the rear of properties, a known target for potential intruders, these bi-fold doors have the strength and rigidity to deter any would-be intruders.
uPVC bi-fold doors are fitted with industry-leading multi point locking mechanisms. The ingenious design also minimises leverage opportunities and weak points to provide a robust but elegant defence for your home, ensuring the safety of yourself and loved ones.
Our door frames are internally reinforced to maximise strength without compromising functionality or appearance. If you have any questions relating to the security of our bi-fold doors, please ask one of our friendly team members.
Bi-Folding Doors Functionality and Options
There is plenty of choices when it comes to bi-folding doors. You really can design them exactly how you want them. There are a number of different configuration options that are available to you so that you can make the most of your living space.
Bi-folding doors will create a lasting impression with visitors to your house and will also be a home improvement that you will appreciate for many years to come. Unlock the real potential of your home with an enhancement that will also add value to your property.
These smart doors fold aside neatly when open, allowing you to maximise your use of space and enjoy the weather on sunnier days. They come in a variety of attractive colour finishes to suit any style of property and any homeowner's taste.
Brochures
Add the WOW factor
Start Your uPVC Bi-Fold Door Quote
Windows Installation Services use advanced software to give customers the chance to generate instant online quotes for uPVC bifold doors in just two minutes. Once received, you can check back on your quote at any time.
If you would like to know more about bi-folding doors and want to speak with an advisor please call us on 01908 886280. Alternatively, send us an email with our contact form. We will be happy to answer any questions you might have and talk you through the installation process.
Bi-Fold Door Configuration Options
---